CSP is a leading supplier of cast, forged and fabricated wear solutions to OEM and aftermarket crusher operators. We have over 30 years experience of supplying crushing wear parts to global mining and mineral processing, oil sands, steel, cement, power and aggregate customers. We supply wear parts with innovative designs and alloys specifically developed for each application and specific location within each crusher. Our experienced sales and engineering departments work closely with the end user to determine exactly what is required in order to supply innovative engineered custom wear parts for crushing processes that are subjected to severe impact and high abrasion. Our wear components are made from impact resistant and abrasion resistant alloys including ASMT A 128 manganese, ASTM A 532 Chrome white iron, Bi-Metal, and fused chrome white irons over mild steel plate. As a ISO 9001 certified company, strict QA and QC programs are in place at many levels to insure quality.
Jaw plates are available in numerous configurations. This includes variations in tooth profiles, straight/curved jaws, and plates with filled-in ends. A large selection of plate designs allows Cast Steel Products to offer the best match for specific customer applications. Your profiles are uniquely designed with all your specifications and requirements. Options can include Tooth, Straight/Curved, Corrugated or Filled in Ends. Choose from one of our 20,000+ existing profile designs!
Cast Steel Products manufactures concaves and mantles for Allis-Chalmers and Fuller/Traylor gyratory crushers. One, Two and Three Piece Configurations available. Variations can also be made with corrugations(a combination of smooth/corrugated or totally smooth) based on your unique needs. Cast Steel Products is one of the few foundries with the capability of producing the large primary mantles with casting weights up to 40,000 pounds for extreme mining requirements.
CSP Advantages
Reduced plant operating costs, longer service life and reduced maintenance costs.
Fast lead times.
High levels of safety, reliability and maintainability.
Designed to minimize downtime and withstand the harshest wear environments and to offer a solution with the lowest production cost per ton of final product.
CSP wear parts increase crusher availability through: Increased wear life, reduced on-going wear part maintenance, and educed downtime as our parts are designed for quicker change out.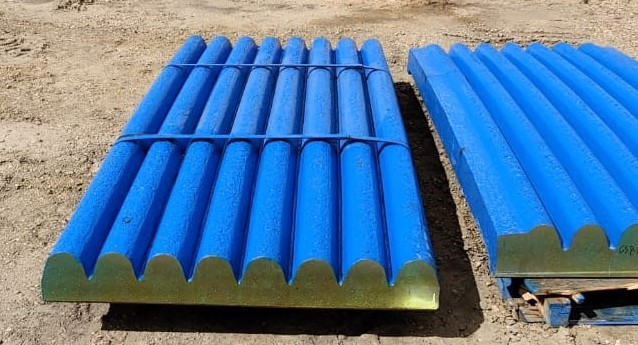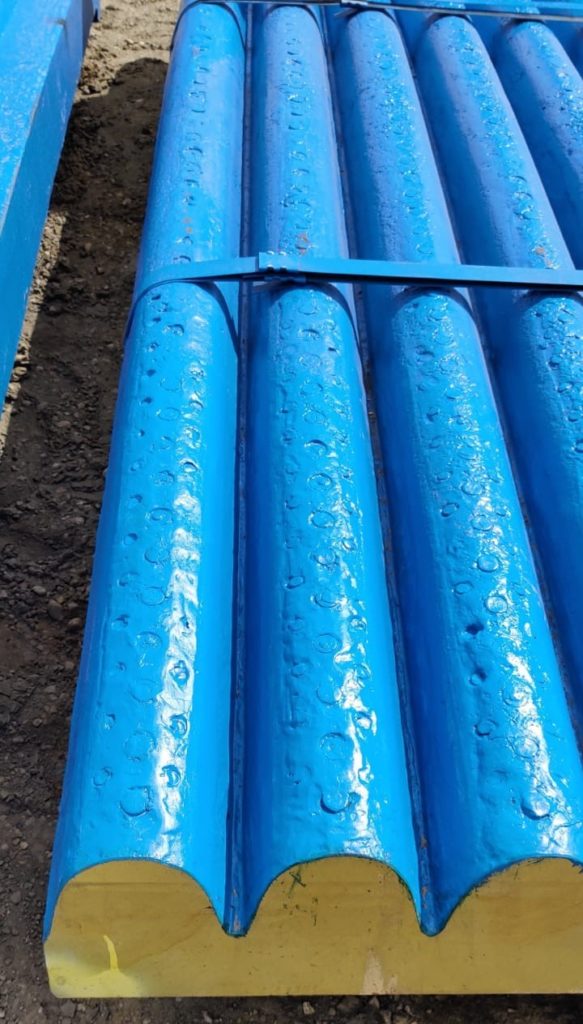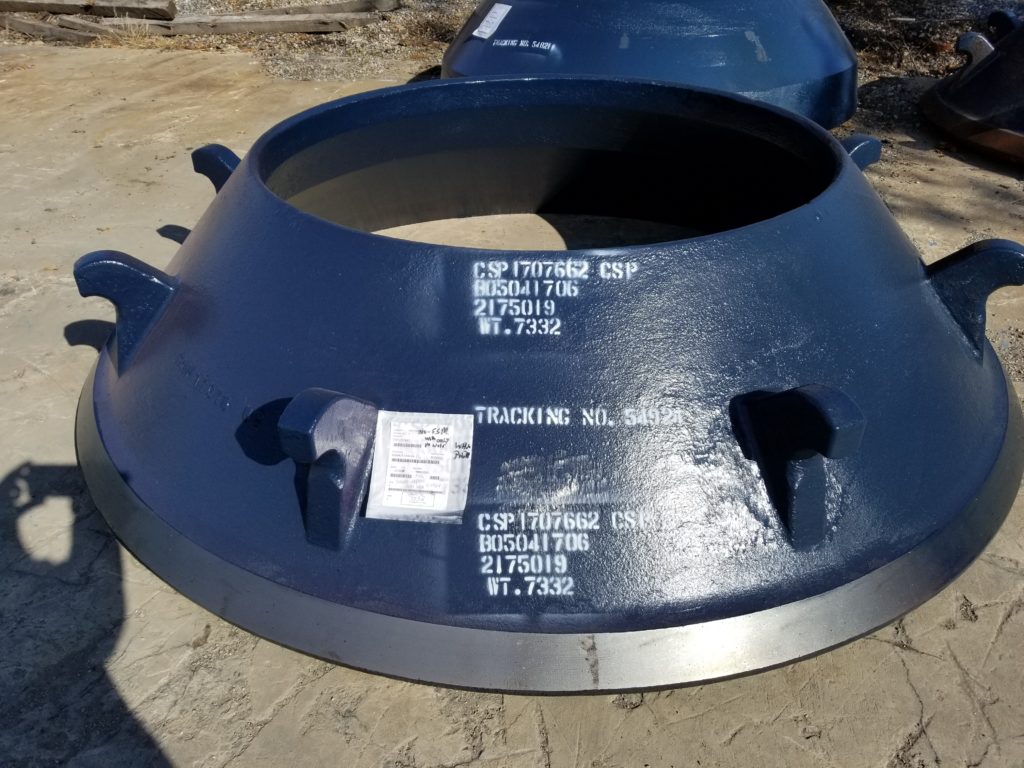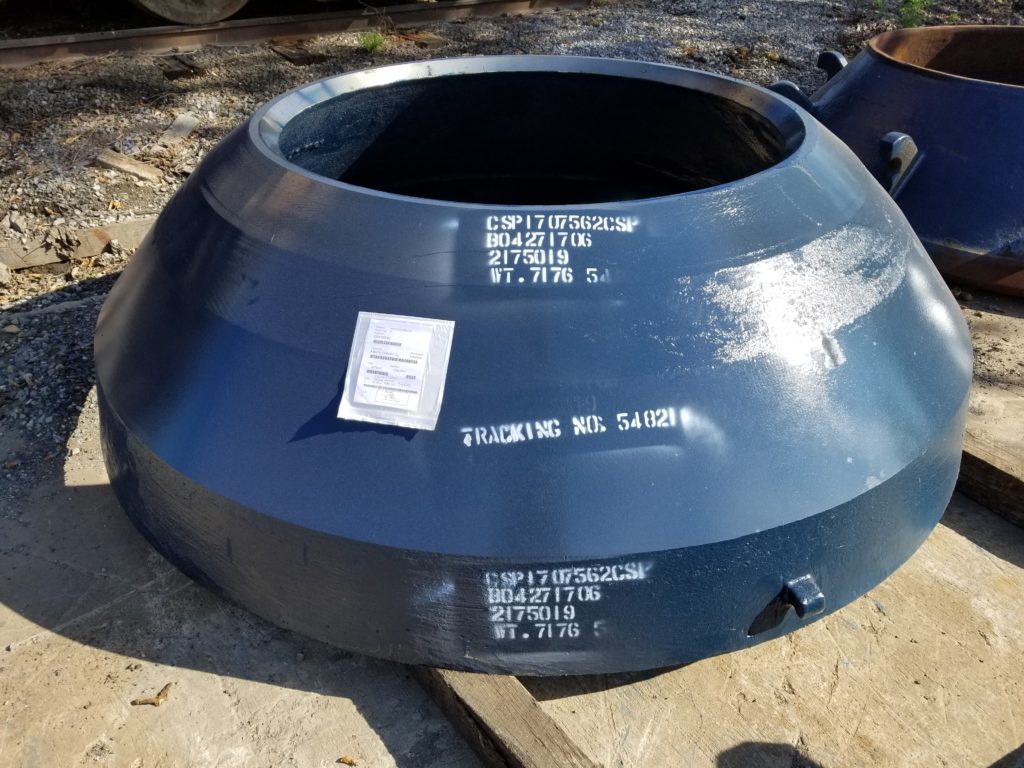 | Make | Part Description | OEM Part# | CSP Part Number |
| --- | --- | --- | --- |
| CONE AC 1051 | CONCAVE RING | 07-345-734-001 | 610302 |
| | | 07-354-101-001 | 610304 |
| CONE AC 1060 | CONCAVE RING | 17-400-240-001 | 610405 |
| CONE AC 1260 | CONCAVE RING BOTTOM SUPPORT | 07-344-391-001 | 610402 |
| | MANTLE | 07-344-404-001 | 610401 |
| | | 14999-D | 610403 |
| CONE AC 1384 | MANTLE | 07-349-708-001 | 610601 |
| CONE AC 3-1/2 51 | MANTLE | 11122-H | 610301 |
| CONE AC 36 M84 | CONCAVE RING | 07-400-045-001 | 610010 |
| | MANTLE | 15593-B | 610006 |
| CONE AC 436 | CONCAVE RING | 07-450-034-001 | 610003 |
| | | 12173-D | 610004 |
| | | CC-33321-A | 610002 |
| | MANTLE | 07-230-152-002 | 610001 |
| CONE AC 45 | BOWL LINER (4″OPENING) | 17772-C | 610104 |
| | BOWL LINER (6″OPENING) | 17772-B | 610103 |
| CONE AC 460 | BOWL LINER | 20286 | 610407 |
| CONE AC 500 | CONCAVE RING | 17-401-784-001 | 610206 |
| | | 17-401-830-001 | 610207 |
| | | 20090-A | 610204 |
| | | (blank) | 610203 |
| | MANTLE | 20235 | 610205 |
| | MANTLE W/O POURING HOLE | 17-302-598-001 | 610201 |
| | MANTLE W/POURING HOLE | 18689-B | 610202 |
| CONE AC 51 | CONCAVE RING | 07-345-760-001 | 610303 |
| CONE AC 551 | CONCAVE RING | 17-400-029-001 | 610305 |
| CONE AC 584 | CONCAVE RING | 17-400-157-001 | 610602 |
| CONE AC 60 | CONCAVE RING | 20232 | 610406 |
| CONE AC 600 | CONCAVE RING | 17-401-952-001 | 610505 |
| | | 17-401-958-001 | 610503 |
| | | 20043 | 610504 |
| | MANTLE | 17-302-596-001 | 610501 |
| | | 17-401-346-001 | 610502 |
| CONE AC 636 | BOWL LINER | 07-337-294-002 | 610011 |
| CONE AC 645 | BOWL LINER | 07-452-542-001 | 610105 |
| CONE AC 7-1/2 45 | MANTLE | 17-300-026-001 | 610101 |
| CONE AC 736 | BOWL LINER | 07-452-889-001 | 610008 |
| | CONCAVE RING | 07-451-765-001 | 610009 |
| | MANTLE | 17-300-095-001 | 610005 |
| CONE AC 751 | CONCAVE RING | 17-400-189-001 | 610306 |
| CONE AC 84 | BOWL LINER | FV-17067-D TERTIARY | 610603 |
| | MANTLE | 20386 | 610604 |
| CONE AC 945 | CONCAVE RING | 07-452-152-001 | 610102 |
| CEDARAPIDS MVP380 | BOWL LINER COARSE | 4800-300-67 | 611601 |
| | MANTLE | 4800-300-24 | 611602 |
| CEDARAPIDS MVP450 | BOWL LINER | 20434 | 611706 |
| | BOWL LINER MED MOD | 5400-300-16Mod | 611701 |
| | BOWL LINER MED-FINE | 540030017 | 611704 |
| | BOWL LINER MED-FINE MOD | 0540030017-MOD | 611705 |
| | MANTLE | 20435 | 611707 |
| | | 54003002001 | 611703 |
| | | 5400-300-20 | 611702 |
| CEDARAPIDS MVP550 | BOWL LINER | 0600030006-MOD | 611801 |
| | MANTLE | 058410096-MOD | 611802 |
| CONE ELJAY 45″ FH | BOWL LINER FINE | 02-450-023-8002 | 611004 |
| CONE ELJAY 45″ STD | BOWL LINER | 02-450-386-0000A | 611005 |
| | BOWL LINER COARSE | 02-450-023-0010A | 611002 |
| | | 02-450-023-0010AX | 611003 |
| | BOWL LINER MED COARSE | 20361 | 611006 |
| | MANTLE | 02-450-022-0004 | 611001 |
| CONE ELJAY 49″ | BOWL LINER | (blank) | 611102 |
| | MANTLE | 02-490-022-0010 | 611101 |
| CONE ELJAY 54″ FH | BOWL LINER | FV-02-540-023-7020A | 611202 |
| | BOWL LINER COARSE | 547364-A | 611204 |
| | MANTLE COARSE | 02-540-363-7000 | 611203 |
| | MANTLE W/POURING HOLES | FV-025400227001A | 611201 |
| CONE ELJAY 54″ STD | BOWL LINER | 02-540-023-0003 MCH | 611305 |
| | | 02-540-488-0000A | 611307 |
| | | 02-540-488-0000A MOD | 611308 |
| | | 02-540-528-8000 | 611312 |
| | | 20360 | 611315 |
| | | FV-19043 | 611310 |
| | BOWL LINER COARSE | 02-540-495-0000A | 611302 |
| | BOWL LINER FINE | 02-540-386-0010A | 611301 |
| | BOWL LINER W/POCKETS | FV-19744-E | 611313 |
| | BOWL LINER, COARSE | 02-540-023-0003/54C23AMOD | 611303 |
| | BOWL LINER, MEDIUM SPL DESIGN | 02-540-023-0003 | 611304 |
| | MANTLE | 02-540-022-0003MOD/54C22MOD | 611306 |
| | | 025400220003HD/54C22-HD | 611314 |
| | | 02-540-527-8000 | 611311 |
| | | (blank) | 611309 |
| CONE ELJAY 66″ FH | BOWL LINER | 19059-A | 611406 |
| | BOWL LINER COARSE | 02-660-364-8010 | 611403 |
| | BOWL LINER FINE | 02-660-023-8010 | 611401 |
| | MANTLE | 02-660-022-8000 | 611407 |
| | | 02-660-363-8010 | 611402 |
| | | 02-660-363-8010HD | 611404 |
| | | 19058-B | 611405 |
| CONE ELJAY 66″ STD | BOWL LINER | 02-660-488-0000 | 611503 |
| | | 20108-A | 611502 |
| | MANTLE WITH POUR HOLE | FV-02-660-022-0010-R3-A | 611501 |
| CONE JCI 1400 RA | BOWL LINER | 546035X | 612003 |
| | | 546239-BX-MOD | 612001 |
| | MANTLE | 546034 | 612002 |
| CONE JCI 45″ STD | BOWL LINER | 456243 | 612103 |
| | MANTLE | 456071 | 612101 |
| | | 456242 | 612102 |
| CONE JCI KODIAK 300 | BOWL LINER | 456264 | 612205 |
| | BOWL LINER COARSE | 456073 | 612206 |
| | BOWL LINER EF | 456076 | 612208 |
| | BOWL LINER FINE | 456243 | 612203 |
| | BOWL LINER MEDIUM | 456074 | 612204 |
| | BOWL LINER MEDIUM IFP | 456075 | 612207 |
| | MANTLE | 456071 | 612201 |
| | MANTLE EF | 456072 | 612209 |
| | MANTLE FINE | 456242 | 612202 |
| | MANTLE NUT CAP | 450053 | 612211 |
| | TORCH RING | 456191 | 612210 |
| CONE JCI KODIAK 400 | BOWL LINER | 546239-BX-MOD | 612301 |
| | BOWL LINER COARSE | 546035X | 612303 |
| | BOWL LINER EF | 546068 | 612308 |
| | BOWL LINER FINE | 546039 | 612306 |
| | BOWL LINER MEDIUM | 546036 | 612304 |
| | BOWL LINER MF | 546037 | 612305 |
| | MANTLE | 546034 | 612302 |
| | MANTLE FINE | 546038 | 612307 |
| | MANTLE NUT CAP | 546464 | 612310 |
| | TORCH RING | 546361 | 612309 |
| CONE NORD HP200SH | BOWL LINER FINE | 4829-1518 | 621003 |
| | BOWL LINER MEDIUM | 4829-1517 | 621001 |
| | MANTLE | 5013-0815 | 621004 |
| | | 5013-0817 | 621002 |
| | TORCH RING | 6391-4005 | 621005 |
| CONE NORD HP200STD | BOWL LINER FINE | 4829-1526 | 621101 |
| | BOWL LINER MEDIUM | 5520-8137/8138/8139 | 621103 |
| | MANTLE | 55308001&11 50130820&0813 | 621102 |
| CONE NORD HP300SH | BOWL LINER | COL: 348412 | 621217 |
| | BOWL LINER COARSE | 4829-4338-MOD, 4342-MOD | 621204 |
| | | 5520-8262/8274/8283 | 621212 |
| | BOWL LINER FINE | 4829-4628/5520-8255,8256 | 621208 |
| | BOWL LINER MEDIUM | 4829-4340 | 621201 |
| | | 4829-4340-MOD | 621209 |
| | | FV-20176-A | 621211 |
| | BOWL LINER MEDIUM HD | 5520-8264/8284/8276 | 621213 |
| | BOWL LINER MEDIUM SPECIAL | 4829-4644 | 621205 |
| | BOWL LINER SPECIAL | FV-20022 | 621207 |
| | MANTLE | 5530-8267 | 621216 |
| | | COL: 348476 | 621218 |
| | MANTLE HD | FV-20311 | 621214 |
| | MANTLE LONG SEAT | 5530-8261/8262/8267-HD | 621210 |
| | MANTLE SHORT SEAT | 5013-2125 | 621202 |
| | MANTLE W/O SKIRT | 5013-2117 | 621206 |
| | MANTLE W/POURING HOLE LONG SEAT | 5013-2075,2076/5530-8261,8262 | 621203 |
| | TORCH RING | 6391-4652 | 621215 |
| CONE NORD HP300STD | BOWL LINER COARSE | 4829-4632 | 621303 |
| | | 4829-4637 | 621306 |
| | | 5520-8267/8271/8280 | 621310 |
| | BOWL LINER EXTRA COARSE | 5520-8250 | 621304 |
| | BOWL LINER FINE | 4829-4629 | 621301 |
| | | 5520-8269,8273,8282 | 621308 |
| | BOWL LINER MEDIUM | 4829-4609 | 621309 |
| | MANTLE LONG SEAT | 5013-2115 | 621307 |
| | | 5530-8252/8263/8265 | 621305 |
| | MANTLE SHORT SEAT | (blank) | 621302 |
| CONE NORD HP4 | BOWL LINER | 5520-9252 | 623101 |
| | BOWL LINER, COARSE | 5520-9258 | 623109 |
| | BOWL LINER, EXTRA COARSE | 5520-9254 | 623107 |
| | BOWL LINER, EXTRA FINE | 5520-9255 | 623105 |
| | BOWL LINER, FINE | 5520-9257 | 623110 |
| | BOWL LINER, MEDIUM | 5520-9253 | 623103 |
| | MANTLE | 5530-9251/9257 | 623102 |
| | MANTLE, EXTRA COARSE | 5530-9259 | 623108 |
| | MANTLE, EXTRA FINE | 5530-9256 | 623106 |
| | | 5530-9261 | 623112 |
| | MANTLE, FINE | 5530-9257 | 623111 |
| | MANTLE, MEDIUM | 5530-9258 | 623104 |
| | TORCH RING | N-12080203 | 623113 |
| CONE NORD HP400SH | BOWL LINER COARSE | 4830-0005 | 621406 |
| | | 4830-0031, 0039/5520-8939 | 621408 |
| | BOWL LINER COARSE HD | 4830-0005 MOD | 621401 |
| | BOWL LINER COARSE W/RETARD | 4830-0005 RTB (19990) | 621417 |
| | BOWL LINER EF | 5520-8387/8396/4830-0043 | 621415 |
| | BOWL LINER FINE | 4830-0044 | 621404 |
| | | 55208385MOD/8395MOD/8386MOD | 621411 |
| | BOWL LINER MEDIUM | 4830-0004 | 621407 |
| | | 4830-0032 | 621414 |
| | | 4830-0041 MOD | 621410 |
| | | FV-19919 | 621405 |
| | MANTLE EF | 5530-8383/8389/8386 | 621416 |
| | MANTLE LONG SEAT | 5530-8385, 8282, 8388 | 621409 |
| | MANTLE SHORT SEAT | 5013-3987 | 621402 |
| | MANTLE SHORT SEAT INCL. T-RING | 5013-6306 | 621403 |
| | TORCH RING | 6391-5675 | 621412 |
| | | 6391-5676 | 621413 |
| CONE NORD HP400STD | BOWL LINER COARSE | FV-19792-B | 621501 |
| | BOWL LINER EXTRA COARSE | 4830-0016-MOD | 621505 |
| | | 4830-0037 | 621507 |
| | BOWL LINER FINE | 4830-0002 | 621506 |
| | | 5520-8382 HD | 621509 |
| | | 5520-8382,8383,8392 | 621508 |
| | BOWL LINER MEDIUM | 4830-0000/5520-8391,8525,8526 | 621503 |
| | | FV-20262 | 621512 |
| | MANTLE HD SHORT SEAT | 5013-3986-MOD | 621510 |
| | MANTLE LONG SEAT | 5530-8381,8384,8387 | 621511 |
| | MANTLE SHORT SEAT | 5013-3986, 3995 | 621502 |
| | MANTLE SHORT SEAT INCL. T-RING | 5013-6305 | 621504 |
| CONE NORD HP500SH | BOWL LINER COARSE | 4831-4220 | 621601 |
| | | 4831-4222, 4241/5520-8517 | 621605 |
| | BOWL LINER EXTRA FINE | 5520-8508,8509,8520 | 621608 |
| | BOWL LINER MED W/RETARD | 4831-4224 | 621607 |
| | BOWL LINER MEDIUM | 4831-4224 | 621603 |
| | | 55208518/48314219&4242 | 621610 |
| | MANTLE LONG SEAT | 5014-3710-LS | 621606 |
| | | 5530-8506,8507,8510 | 621609 |
| | MANTLE SHORT SEAT | 5014-3710/5530-8502, 8504, 8509 | 621604 |
| | MANTLE SHORT SEAT INCL. T-RING | 5014-3722 / 5530-8505 | 621602 |
| | TORCH RING | 6391-5668 | 621718 |
| CONE NORD HP500STD | BOWL LINER COARSE | 4831-4236 / 5520-8514 | 621706 |
| | | 4831-4236A/4243//5520-8514 | 621701 |
| | | FV-20144 | 621709 |
| | BOWL LINER EXTRA COARSE | 4831-4240 | 621705 |
| | | 4831-4240-MOD | 621712 |
| | | 4831-4245 | 621713 |
| | BOWL LINER FINE | 4831-4210/4211 | 621704 |
| | | 5520-8502MOD,-8504MOD,-8516 | 621711 |
| | BOWL LINER FINE HD W/FEED POCKETS | 5520-8502-HD W/IF | 621715 |
| | BOWL LINER FINE HD WO/FEED POCKETS | 5520-8502-HD WO/IF | 621716 |
| | BOWL LINER MEDIUM | 4831-4227-Mod/P9834203 | 621703 |
| | BOWL LINER MEDIUM SPECIAL | FV-20045 | 621707 |
| | MANTLE HD | 5530-8501-HD/5014-3700-HD | 621717 |
| | MANTLE LONG SEAT | FV-20270 | 621714 |
| | MANTLE SHORT SEAT | 5014-3700 | 621702 |
| | | 5530-8501-8503, 8508 | 621710 |
| | MANTLE SHORT SEAT INCL. T-RING | FV-20138 | 621708 |
| CONE NORD HP700SH | BOWL LINER | RT7100M220 | 621805 |
| | BOWL LINER COARSE | 4831-4341 | 621803 |
| | BOWL LINER FINE | 4831-4316 | 621801 |
| | MANTLE | 5014-3828 | 621802 |
| | | 5014-3845 | 621804 |
| | | RT701M220 | 621806 |
| CONE NORD HP700STD | BOWL LINER | 4831-4331 | 621901 |
| | MANTLE | 5014-3849 | 621902 |
| CONE NORD HP800SH | BOWL LINER | 20448-A | 622005 |
| | | 4831-4363 MOD | 622003 |
| | | 4831-4364 | 622001 |
| | MANTLE | 20403 | 622004 |
| | | 20449 | 622006 |
| | | 20248-B | 622002 |
| CONE NORD HP800STD | (blank) | 4831-4362 | 622101 |
| | | 5013-3851 MOD | 622102 |
| CONE PEGSON 1000 | BOWL LINER | 20376-B | 613001 |
| | MANTLE | 20377-C | 613002 |
| CONE PEGSON 1300 | BOWL LINER | 603/1407 | 613101 |
| | | 603/1416 | 613103 |
| | MANTLE | 605/1248 | 613102 |
| | TORCH RING | XS-19871 | 613104 |
| CONE RAPTOR 1100 | BOWL LINER | RXL1010B005 | 613401 |
| | MANTLE | RXL1010M004 | 613402 |
| SANDVIK H2000/CH420 | CONCAVE M-C2 | 442.6428 | 614002 |
| | CONCAVE RING | 442.658 | 614003 |
| | CONCAVE RING C | 442.9587 | 614009 |
| | CONCAVE RING EC | 442.9569 | 614005 |
| | CONCAVE RING F | 442.9584 | 614006 |
| | CONCAVE RING M | 442.9586 | 614008 |
| | CONCAVE RING MF | 442.9585 | 614007 |
| | MANTLE A | 442.9698 | 614010 |
| | MANTLE B | 442.6197 | 614001 |
| | MANTLE EF | 442.7 | 614004 |
| | MANTLE HC | 442.9761 | 614011 |
| SANDVIK H3000/CH430 | CONCAVE C | 442.8248-01 | 614106 |
| | CONCAVE EC | 442.8249-01 | 614107 |
| | CONCAVE F | 442.8251-01 | 614108 |
| | CONCAVE M | 442.8246-01 | 614104 |
| | CONCAVE MC | 442.8247-01 | 614105 |
| | CONCAVE MF | 442.8003-01 | 614103 |
| | CONCAVE RING EF | 442.8630-01 | 614110 |
| | MANTLE A | 442.7988-01 | 614101 |
| | MANTLE B | 442.7989-01 | 614102 |
| | MANTLE EF | 442.8629-01 | 614109 |
| SANDVIK H4000/CH440 | BOWL LINER EC | 442-8422 | 614205 |
| | | 452-3027 | 614215 |
| | BOWL LINER MC | 442-7239 | 614210 |
| | | 442-8420 | 614213 |
| | BOWL LINER COARSE | 442-8421 | 614201 |
| | BOWL LINER EF | 442-8416 | 614212 |
| | BOWL LINER M | 442-8419 | 614207 |
| | BOWL LINER MF | 442-8417 | 614209 |
| | | 442-8418 | 614204 |
| | BOWL LINER MF HD | 442-8417-HD | 614206 |
| | MANTLE A | 442-7225 | 614208 |
| | MANTLE A (HD) | 442-7225-HD | 614203 |
| | MANTLE B | 442-7230 | 614202 |
| | MANTLE D | 442-9073 | 614214 |
| | MANTLE EF | 442-8039 | 614211 |
| SANDVIK H6000/CH660 | BOWL LINER | 442-8817 | 614406 |
| | | 442-8818 | 614407 |
| | BOWL LINER C | 442-8814 | 614405 |
| | BOWL LINER CX | 442-9230 | 614410 |
| | BOWL LINER EC | 442-8813 | 614409 |
| | BOWL LINER EF | 452-0832 | 614414 |
| | BOWL LINER M | 442-8816 | 614403 |
| | BOWL LINER MC | 442-8815 | 614411 |
| | BOWL LINER MF | FV-19730-B | 614402 |
| | MANTLE A | 442-8819 | 614401 |
| | MANTLE B | 442-8820 | 614404 |
| | MANTLE D | 442-8821 | 614408 |
| | MANTLE EF | 452-0820 | 614413 |
| | MANTLE HC | 442-9760 | 614412 |
| | TORCH RING | 452.0269 | 614415 |
| SANDVIK H7800/CH870 | BOWL LINER C | 452-2255 | 614505 |
| | BOWL LINER EC | 452-0838 | 614504 |
| | BOWL LINER EF | 452-0840 | 614510 |
| | BOWL LINER F | 452-0841 | 614509 |
| | BOWL LINER M | 452-1754 | 614507 |
| | BOWL LINER MC | 452-2253 | 614506 |
| | BOWL LINER MF | 452-0842 | 614508 |
| | MANTLE A | 452-0837 | 614501 |
| | MANTLE B | 452-0872 | 614502 |
| | MANTLE EF | 452-0845 | 614503 |
| SANDVIK H8000/CH880 | BOWL LINER C | 442-9398 | 614807 |
| | BOWL LINER EC | 442-9336 | 614806 |
| | BOWL LINER EEF | 452-0579 | 614814 |
| | BOWL LINER EF | 442-9341 | 614811 |
| | | 452-0263 | 614812 |
| | BOWL LINER EFX | 452-1067 | 614815 |
| | BOWL LINER M | 442-9337 | 614809 |
| | BOWL LINER MC | 442-9471 | 614808 |
| | BOWL LINER MF | 442-9312 | 614810 |
| | MANTLE A | 442-9314 | 614801 |
| | MANTLE B | 442-9339 | 614802 |
| | MANTLE EF | 452-0264 | 614813 |
| | MANTLE EF LOWER | 442-9340 | 614803 |
| | MANTLE EF UPPER | 442-9340 | 614804 |
| | MANTLE HC | 442-9758 | 614805 |
| | MANTLE OVERSIZE | 452-4051 | 614816 |
| SANDVIK S2000/CS420 | CONCAVE LOWER C | 442-8522 | 614903 |
| | CONCAVE LOWER EC | 442-8464 | 614905 |
| | CONCAVE UPPER C | 442-7379 | 614904 |
| | CONCAVE UPPER EC | 442-8550 | 614906 |
| | MANTLE A | (blank) | 614901 |
| | MANTLE B | 442-6789 | 614902 |
| SANDVIK S3000/CS430 | CONCAVE LOWER C | 442-8478 | 615003 |
| | CONCAVE LOWER EC | 442-8477 | 615005 |
| | CONCAVE UPPER C | 442-8485 | 615004 |
| | CONCAVE UPPER EC | 442-8484 | 615006 |
| | CONCAVE UPPER MC | 452-1465 | 615007 |
| | MANTLE A | 442-8470 | 615001 |
| | MANTLE B | 442-8471 | 615002 |
| SANDVIK S4000/CS440 | CONCAVE LOWER C | 442-8098 | 615103 |
| | CONCAVE LOWER EC | 442-8114 | 615105 |
| | CONCAVE UPPER C | 442-8099 | 615104 |
| | CONCAVE UPPER EC | 442-8115 | 615106 |
| | MANTLE A | 442-8089 | 615101 |
| | MANTLE B | 442-8070 | 615102 |
|  SANDVIK S6000/CS660 | CONCAVE LOWER C | 442-9071 | 615202 |
| | CONCAVE LOWER EC | 442-8979 | 615205 |
| | | 452-5920 | 615207 |
| | CONCAVE UPPER C | 442-9072 | 615203 |
| | CONCAVE UPPER EC | 442-8981 | 615206 |
| | | 452-3822 | 615208 |
| | MANTLE A | 442-8982 | 615201 |
| | MANTLE B | 442-8983 | 615204 |
| CONE SYMONS 3′ STD | BOWL LINER COARSE/EC | 4829-6575/6576 | 624901 |
| | MANTLE | 5013-2201 | 624902 |
| CONE SYMONS 4 1/4′ SH | BOWL LINER COARSE LONG/C | 4829-9481 | 625031 |
| | | 4830-1288 | 625006 |
| | BOWL LINER COARSE SHORT/C | 4830-0158 | 625020 |
| | BOWL LINER EXTRA COARSE LONG/C | 4830-1371 | 625004 |
| | BOWL LINER FINE LONG/C | 18257-XA | 625029 |
| | BOWL LINER FINE LONG/F | 8952-X | 625030 |
| | BOWL LINER FINE SHORT/F | 4829-8603 | 625003 |
| | | 4829-8671 | 625001 |
| | | FV-11824-B | 625002 |
| | BOWL LINER MEDIUM LONG/C | 4830-2451 | 625009 |
| | BOWL LINER MEDIUM SHORT/C | 4830-0023 | 625019 |
| | BOWL LINER MEDIUM SHORT/F | 4830-0024 | 625018 |
| | BOWL LINER MEDIUM/C | 4830-2451-MOD | 625022 |
| | BOWL LINER SHORT/C | 4829-8941 | 625028 |
| | BOWL LINER SHORT/F | 4829-9751 | 625027 |
| | MANTLE | 18288-C | 625014 |
| | | 5013-4726 | 625005 |
| | | 5013-4801 | 625013 |
| | | 5013-4801-MOD | 625021 |
| | | 5013-4803 | 625012 |
| | | 5013-5401 | 625016 |
| | | FV-18782-A | 625015 |
| | | FV-18942-C | 625017 |
| | MANTLE COMBINATION | 14511-A | 625010 |
| | | 14511-AXX | 625011 |
| | MANTLE I.F. | FV-20153 | 625023 |
| | MANTLE LONG | 5013-5601 | 625008 |
| | | FV-13459-B | 625007 |
| | MANTLE W POURING HOLES (12943A) | 5013-4726 | 625024 |
| | MANTLE W POURING HOLES (17711) | 5013-4801 | 625025 |
| | MANTLE WO POURING HOLES (18288C) | 20458 | 625026 |
| CONE SYMONS 4 1/4′ STD | BOWL LINER | 4830-4071 | 625105 |
| | BOWL LINER COARSE LONG/C | 4830-0291 | 625121 |
| | | 4830-2957 | 625108 |
| | | 4830-2957-ALT | 625109 |
| | | 4830-4881 & 4885 | 625110 |
| | BOWL LINER COARSE LONG/EC | 4830-2958-MOD | 625112 |
| | BOWL LINER EXTRA COARSE /C | 9894-C | 625126 |
| | BOWL LINER FINE LONG/C | (blank) | 625102 |
| | BOWL LINER FINE LONG/F | 4830-1101 | 625122 |
| | BOWL LINER FINE LONG/M | 4830-4611, 4616 | 625101 |
| | BOWL LINER MEDIUM LONG HD/C | 10300-AX | 625104 |
| | BOWL LINER MEDIUM LONG/C | 4830-0350 | 625114 |
| | | 4830-2800 | 625117 |
| | | 4830-2925 | 625113 |
| | | 4830-4341/4346 | 625106 |
| | | 4830-4699 | 625115 |
| | | 4830-4699-MCH | 625116 |
| | BOWL LINER MEDIUM LONG/M | 4830-4071-MOD | 625103 |
| | MANTLE | 5013-4201 | 625120 |
| | | 5013-4451 | 625107 |
| | | 5013-6001, 6007 | 625124 |
| | | FV-9343-A | 625123 |
| | MANTLE EXTRA COARSE LONG | 5013-4551 | 625111 |
| | MANTLE I.F. | FV-20154 | 625118 |
| | MANTLE I.F. W POURING HOLE | FV-20154-A | 625119 |
| | MANTLE W/POURING HOLES | FV-9343-B1 | 625125 |
| CONE SYMONS 5 1/2′ SH | BOWL LINER | 4830-6331 | 625224 |
| | BOWL LINER COARSE IF LONG/C | 483031-MOD | 625217 |
| | BOWL LINER COARSE LONG/C | 4830-6231 | 625202 |
| | | 4830-6430 | 625207 |
| | | Col 339305 | 625221 |
| | | FV-10637-AXX | 625203 |
| | BOWL LINER COARSE SHORT/C | 4830-5415 | 625212 |
| | BOWL LINER FINE SHORT/C | 4830-5556 | 625214 |
| | BOWL LINER FINE SHORT/F | 4830-5963 | 625213 |
| | BOWL LINER MEDIUM LONG/C | 4830-6416 IF | 625215 |
| | BOWL LINER MEDIUM SHORT/C | 4830-5421 | 625220 |
| | | 4830-5421-MOD | 625223 |
| | | 4830-5557 | 625204 |
| | BOWL LINER MEDIUM SHORT/F | 4830-5961 | 625219 |
| | | 4830-5961-MOD | 625222 |
| | MANTLE | 3180001 | 625210 |
| | | 5013-7203 | 625208 |
| | | 5013-7401 | 625209 |
| | | 5013-7610 | 625206 |
| | | 5013-7702 | 625205 |
| | | FV-18934-E | 625211 |
| | | FV-20179-A | 625218 |
| | | (blank) | 625201 |
| | | | 625216 |
| CONE SYMONS 5 1/2′ STD | BOWL LINER COARSE LONG/C | 4830-6771 | 625303 |
| | BOWL LINER COARSE LONG/C HD | FV-20284-A | 625310 |
| | BOWL LINER COARSE LONG/EC | 4830-6772 | 625304 |
| | BOWL LINER COARSE LONG/EC HD | FV-18996-A2 | 625305 |
| | BOWL LINER EXTRA COARSE | 4830-5353 | 625301 |
| | BOWL LINER EXTRA COARSE (LONG) | 4830-6871 | 625312 |
| | BOWL LINER MEDIUM LONG/M&C | 4830-6501 | 625306 |
| | MANTLE LOWER | 5013-7001 | 625302 |
| | | FV-20300 | 625311 |
| | MANTLE UPPER W/HOLES HIGH POSITION | 5013-6803 | 625307 |
| | MANTLE UPPER W/HOLES LOW POSITION | 5013-6803 | 625309 |
| | MANTLE UPPER W/O HOLES | 5013-6801, 8604 | 625308 |
| CONE SYMONS 7′ SH | BOWL LINER | 4830-7497 | 625448 |
| | | Col 343 346 | 625457 |
| | | FV-18902-F1 | 625410 |
| | | (blank) | 625446 |
| | | | 625447 |
| | BOWL LINER COARSE | 4830-7386 | 625462 |
| | BOWL LINER COARSE SHORT/C | 4830-8412 | 625435 |
| | | FV-19984 | 625439 |
| | BOWL LINER COARSE SHORT/F | FV-19984-A | 625440 |
| | BOWL LINER COARSE/C IF (19984) | FV-20371 | 625450 |
| | BOWL LINER COARSE/F IF (19984A) | FV-20371-A | 625451 |
| | BOWL LINER FINE | 4830-7385 | 625461 |
| | BOWL LINER FINE SHORT/C | 4830-7491 | 625402 |
| | | 4830-7583 OLD | 625404 |
| | | 4830-7851 MCH | 625425 |
| | BOWL LINER FINE SHORT/F | 4424596V-CPX 48307580 | 625429 |
| | | 4830-7418 | 625436 |
| | | 4830-7490 | 625401 |
| | | 4830-7490 ALT | 625427 |
| | | 4830-7498 | 625409 |
| | | 4830-7580 | 625426 |
| | | 4830-7581 | 625428 |
| | | 4830-7581 OLD | 625403 |
| | | 4830-7851 | 625424 |
| | | FV-18902-A2 | 625408 |
| | BOWL LINER FINE SPECIAL | 003173002 4831-FSM-MB | 625438 |
| | BOWL LINER MED/C IF (20371MOD) | 20393 | 625452 |
| | BOWL LINER MED/F IF (20371AMOD) | 20393-A | 625453 |
| | BOWL LINER MEDIUM SHORT/C | 4830-7379 | 625430 |
| | | FV-20175 | 625442 |
| | | (blank) | 625432 |
| | BOWL LINER MEDIUM SHORT/F | 4830-7378 | 625431 |
| | BOWL LINER SHORT/F | 20418 | 625455 |
| | BOWL LINER/C | 4830-8400 | 625433 |
| | | 4830-8400-MCH | 625434 |
| | FEED PLATE | (blank) | 625459 |
| | | | 625460 |
| | MANTLE | 20394 | 625454 |
| | | 5013-9002 | 625416 |
| | | 5013-9201 | 625417 |
| | | 5013-9203 | 625413 |
| | | 5013-9204 | 625456 |
| | | 5013-9209 | 625449 |
| | | 5013-9302 | 625422 |
| | | 7-879-CA | 625415 |
| | | Col 343 347 | 625458 |
| | | FV-18895-H | 625407 |
| | | FV-18923-D1 | 625418 |
| | | FV-20185-A | 625443 |
| | | (blank) | 625406 |
| | | | 625445 |
| | MANTLE COARSE | 5013-9293 | 625423 |
| | MANTLE FINE | 5013-9710 | 625405 |
| | MANTLE W/HOLES | FV-20208 | 625444 |
| | MANTLE W/O HOLES | 41-301-4545 | 625437 |
| | MANTLE W/O POURING HOLES | 5013-9268 | 625420 |
| | | FV-18923-D2 | 625419 |
| | | FV-19985 | 625441 |
| | MANTLE W/POURING HOLE | 5013-9001 | 625412 |
| | | FV-18920-B1 | 625414 |
| | MANTLE W/POURING HOLES | 5013-9268 | 625421 |
| | MANTLE WO/POURING HOLE | 5013-9001 | 625411 |
| CONE SYMONS 7′ STD | BOWL LINER | 20318-72 | 625529 |
| | | 4830-9471-HD | 625528 |
| | | COL 341 698 | 625533 |
| | | FV-18947-C1 | 625519 |
| | | FV-20183-A | 625526 |
| | | FV-20388 | 625532 |
| | BOWL LINER COARSE/C | 4830-8556 | 625524 |
| | BOWL LINER EXTRA COARSE/EC | 4830-8846 | 625502 |
| | BOWL LINER FINE/C | 4830-9472 | 625522 |
| | BOWL LINER FINE/M | 4830-9471 | 625523 |
| | BOWL LINER MEDIUM HD/C | FV-18947-B5 | 625518 |
| | | FV-18947-D3 | 625520 |
| | BOWL LINER MEDIUM/C | 4830-8608 | 625517 |
| | | 4830-8708 | 625507 |
| | BOWL LINER MEDIUM/EC | 4830-8504 | 625521 |
| | | 4830-9100 | 625505 |
| | BOWL LINER MEDIUM/M | 4830-9741 | 625506 |
| | FEED PLATE | Lifting Loop Redesign | 625536 |
| | | (blank) | 625535 |
| | MANTLE | 0001202806-MOD | 625515 |
| | | 12974-A | 625501 |
| | | FV-20150-A | 625525 |
| | | FV-20184-A | 625527 |
| | | GSY83STLM59 | 625534 |
| | MANTLE LOWER | 20319-72 | 625530 |
| | | 47-175-0805 | 625514 |
| | | 5013-8401/8601/8801 | 625512 |
| | | 5013-8901 | 625504 |
| | | 5013-8920 | 625516 |
| | | FV-18919-C | 625513 |
| | MANTLE UPPER | 20320-72 | 625531 |
| | | 47-175-0810 | 625508 |
| | | 5013-8101 | 625503 |
| | MANTLE UPPER W/HOLE | 5013-8209 | 625509 |
| | | 5013-8209-MOD | 625511 |
| | MANTLE UPPER W/O HOLE | 5013-8201 W/O ZINC HOL | 625510 |
| G-CONE GP300S/G-2812 | CONCAVE LOWER | 4830-0018 4830-0010 | 620005 |
| | | 4830-0020 | 620002 |
| | CONCAVE UPPER | 4830-0019 4830-0011 | 620004 |
| | | 4830-0030 | 620001 |
| | MANTLE | 5014-0003 & 5014-0002 | 620003 |
| GYRADISC NORDBERG 36″ | BOWL LINER | 4829-4706 | 620102 |
| | LINER – LOWER | 5013-9901 | 620101 |
| | LINER – UPPER | 4829-4700 | 620103 |
| | | 4829-4707 | 620104 |
| GYRADISC NORDBERG 48″ | LINER LOWER | 5014-0040 | 620201 |
| | | 5014-0050 | 620202 |
| | LINER UPPER | 4829-8475 | 620205 |
| | LINER UPPER W/RET BAR | 4829-8482 | 620204 |
| | LINER UPR W/O RETARD BAR | 4829-8492 | 620209 |
| | LINER UPR W/RETARD BAR | 4829-8500 | 620208 |
| | | 4829-8501 | 620207 |
| | | 4829-8502 | 620206 |
| | LOWER LINER EXTENSION | 5014-0010 | 620203 |
| GYRADISC NORDBERG 66″ | LINER LOWER | 18705 | 620308 |
| | | 20327 | 620310 |
| | | 5014-0360 | 620304 |
| | LINER LOWER EXTENSION | 5014-0350 | 620305 |
| | LINER UPPER | 20326 | 620309 |
| | LINER UPPER W/RETARD BAR | 18704-A | 620307 |
| | LINER UPR W/O RETARD BAR | 4830-7055 | 620301 |
| | LINER UPR W/RETARD BAR | 4830-7057 | 620303 |
| | | 4830-7058 | 620302 |
| | LOWER LINER EXTENSION | 18640 | 620306 |
| GYRASPHERE TEL 1300FC | CONCAVE RING | HB-272-1529 | 630002 |
| GYRASPHERE TEL 1300S | CONCAVE RING | 17984-A | 630003 |
| GYRASPHERE TEL 1310 | CONCAVE RING | AB-272-1529 | 630004 |
| | | JB-272-1529 | 630001 |
| | MANTLE | AB-272-1539 | 630005 |
| GYRASPHERE TEL 1500 | MANTLE CAP | D-272-1208 | 630104 |
| GYRASPHERE TEL 1500FC | MANTLE W/POURING SLOTS | B-272-1239 | 630101 |
| GYRASPHERE TEL 1500S | CONCAVE RING | AB-272-1229 | 630105 |
| GYRASPHERE TEL 1510FC | CONCAVE RING | 19939 | 630107 |
| | CONCAVE RING FINE | 19973 | 630109 |
| | CONCAVE RING MEDIUM | RA-283-363 ALT | 630102 |
| | MANTLE | B1-272-1239 | 630106 |
| | | B1-272-2139 | 630108 |
| GYRASPHERE TEL 1510S | CONCAVE RING MEDIUM | BB-272-1229 | 630103 |
| GYRASPHERE TEL 36″ FC | BOWL LINER | B-272-430 | 630201 |
| | CONCAVE RING | B-272-431 | 630203 |
| | MANTLE LOWER | A-272-453 | 630202 |
| | MANTLE UPPER | D-272-454 | 630204 |
| GYRASPHERE TEL 36″ S | CONCAVE RING | B-272-427 | 630301 |
| | MANTLE LOWER | B-272-451 | 630302 |
| | MANTLE UPPER | D-272-452 | 630303 |
| GYRASPHERE TEL 48″ FC | CONCAVE RING | B-272-343 | 630403 |
| | CONCAVE RING MEDIUM | B-272-344 | 630401 |
| | MANTLE LOWER | B-272-348 | 630402 |
| | MANTLE UPPER | E-272-349 | 630404 |
| | | FV-12568 | 630405 |
| GYRASPHERE TEL 48″ S | BOWL LINER MEDIUM | B-272-313 | 630504 |
| | CONCAVE RING | B-272-345 | 630501 |
| | | B-272-360 | 630502 |
| | | B-272-361 | 630505 |
| | CONCAVE RING COARSE | B1-272-312 | 630503 |
| | MANTLE LOWER | D-272-307 | 630506 |
| | MANTLE UPPER | E-272-308 | 630507 |
| | STUD CAP | C-272-308 | 630508 |
| GYRASPHERE TEL 52″ FC | CONCAVE RING COARSE | BA/BC-272-2329 | 630602 |
| | CONCAVE RING MEDIUM | DA/DC-272-2329 | 630601 |
| | MANTLE | A/E-272-2332 | 630603 |
| | TORCH RING | CA-272-1533 | 630604 |
| GYRASPHERE TEL 57″ S | CONCAVE RING COARSE | AB-272-2129 Mod | 630901 |
| | MANTLE | CA-272-2134 Mod | 630902 |
| | MANTLE IF | CA-272-2134 Mod | 630903 |
| | TORCH RING | AB1-272-1208 | 630904 |
| GYRASPHERE TEL 66″ FC | CONCAVE RING | CB-272-608 | 631004 |
| | MANTLE LOWER | EB-272-623 | 631002 |
| | | | 631005 |
| | | JA-272-623 | 631001 |
| | MANTLE UPPER | CD-272-623 | 631003 |
| | TORCH RING | (blank) | 631006 |
| GYRASPHERE TEL 66″ S | CONCAVE RING | AB-272-608 | 631108 |
| | | BB-272-608 | 631101 |
| | | FV-20115 | 631109 |
| | MANTLE LOWER | GB-272-623 | 631105 |
| | MANTLE NUT | (blank) | 631110 |
| | MANTLE UPPER | FV-12751-E | 631104 |
| | | HB-272-623 | 631102 |
| | STUD CAP | BF-272-623 | 631107 |
| GYRASPHERE TEL 6614S | CONCAVE RING | EB-272-608 | 631106 |
| | MANTLE UPPER RIBBED | FV-12751-D | 631103 |
| GYRASPHERE TEL 68 | CONCAVE RING HD | A-272-1634-MOD | 631201 |
| | MANTLE | B-272-1639-MOD | 631202 |
| GYRATORY AC1650 | MANTLE | 11569-E | 690101 |
| GYRATORY AC3055 | MANTLE CORRUGATED | (blank) | 690201 |
| GYRATORY AC4265 | BOTTOM SHELL REAR ARM LINER LH | (blank) | 690502 |
| | BOTTOM SHELL REAR ARM LINER RH | (blank) | 690501 |
| GYRATORY AC6089 | BURNING RING | Sierrita | 691001 |
| JAW AC 2448 | JAW MOVABLE W SLAB BREAKER | 19186-A | 650004 |
| | JAW MOVABLE W/O SLAB BREAKER | 17-401-159-001 | 650003 |
| | JAW STATIONARY W SLAB BREAKER | 17-401-158-001 | 650001 |
| | JAW STATIONARY W/O SLAB BREAKER | 19084-A | 650002 |
| JAW AC 3042 | CHEEK PLATE LOWER | 19014-BL | 650103 |
| | | 19014-BR | 650104 |
| | CHEEK PLATE UPPER | 19028-BL | 650105 |
| | | 19028-BR | 650106 |
| | JAW MOVABLE | 17-401-095-001 | 650101 |
| | JAW STATIONARY | 17-401-096-001 | 650102 |
| JAW AC 4248 | JAW MOVABLE 4 – BOLT HOLE | (blank) | 650202 |
| | JAW MOVABLE 8 – BOLT HOLE | (blank) | 650203 |
| | JAW STATIONARY | (blank) | 650201 |
| JAW AC 4860 | JAW MOVABLE | 20218 | 650302 |
| | | 20243 | 650304 |
| | JAW STATIONARY | 20217 | 650301 |
| | | 20242 | 650303 |
| JAW AW 3240 | JAW MOVABLE | 18660 | 651503 |
| | | WC-329 | 651501 |
| | | (blank) | 651505 |
| | JAW STATIONARY | 13159-A | 651502 |
| | | WC-328 | 651504 |
| | | (blank) | 651506 |
| JAW BAXTER 1100X800 | JAW MOVABLE | 11900 | 652001 |
| | JAW STATIONARY | 11901 | 652002 |
| JAW BIRDSBORO 4860 | JAW MOVABLE | 20081 | 653201 |
| | | 20316-72 | 653203 |
| | JAW STATIONARY | 20082 | 653202 |
| | | 20317-72 | 653204 |
| JAW CEDARAPIDS 3042 | JAW MOVABLE | 3042-051-03 | 655102 |
| | JAW STATIONARY | 3042-051-04 | 655101 |
| JAW CEDARAPIDS 3648 | JAW MOVABLE | 3645-049-30 | 655401 |
| | JAW STATIONARY | 3645-049-20 | 655402 |
| | JAW STATIONARY W/FILL END | 3645-049-20 | 655403 |
| JAW CEDARAPIDS 4248 | JAW MOVABLE | 19017 | 655601 |
| | | 19089 | 655603 |
| | JAW MOVABLE W/FILLED IN ENDS | 19089-A | 655604 |
| | JAW STA W/FILLED IN ENDS | 20166 | 655606 |
| | JAW STATIONARY | 19018-B | 655602 |
| | | 19090 | 655605 |
| | | 20205-A | 655607 |
| | JAW STATIONARY Wx1/FIE | 20255 | 655608 |
| JAW CEDARAPIDS 5460 | JAW MOVABLE | 18193-B | 655701 |
| | JAW STATIONARY | 18194-B | 655703 |
| | | 5460-001-85 | 655702 |
| JAW HEWITT-ROBINS 2436 | JAW MOVABLE | (blank) | 660001 |
| | JAW STATIONARY | (blank) | 660003 |
| | JAW STATIONARY W/FILLED IN ENDS | (blank) | 660002 |
| JAW KUE KEN #110 2542 | JAW REVERSIBLE | 14783-A | 657001 |
| | | 14783-AX | 657002 |
| JAW KUE KEN #120 | JAW REVERSIBLE | 20206 | 657101 |
| JAW KUE KEN #200 4860 | JAW REVERSIBLE | 20290 | 657201 |
| JAW LIPPMANN 3042 | JAW MOVABLE | 19696-A | 660901 |
| | | 19696-A-MOD | 660902 |
| | | 19696-AX | 660903 |
| | JAW STATIONARY | 19697-B | 660904 |
| | JAW STATIONARY (SPCL) | 19697-BX | 660905 |
| JAW LIPPMANN 3048 | JAW MOVABLE | C10196 | 661002 |
| | JAW STATIONARY | C10195 | 661001 |
| JAW LIPPMANN 4248 | CHEEK LOWER LH 1-3/8″ TH (FLAT BOTTOM BOLT HOLE) | FV-10605-E | 661404 |
| | CHEEK LOWER LH 1-3/8″ TH (TAPER BOLT HOLE) | FV-10605-A | 661402 |
| | CHEEK LOWER REV 1-3/8″ TH | 2613 A-10143-01 | 661401 |
| | CHEEK  LOWER RH 1-3/8″ TH (FLAT BOTTOM BOLT HOLE) | FV-10605-F | 661405 |
| | CHEEK LOWER RH 1-3/8″ TH (TAPER BOLT HOLE) | FV-10605-B | 661403 |
| | CHEEK UPPER LH 1-3/8″ TH (FLAT BOTTOM BOLT HOLE) | FV-11035-E | 661409 |
| | CHEEK UPPER LH 1-3/8″ TH (TAPER BOLT HOLE) | FV-11035-A | 661407 |
| | CHEEK  UPPER REV 1-3/8″ TH | 2712 | 661406 |
| | CHEEK UPPER RH 1-3/8″ TH (FLAT BOTTOM BOLT HOLE) | FV-11035-F | 661410 |
| | CHEEK UPPER RH 1-3/8″ TH (TAPER BOLT HOLE) | FV-11035-B | 661408 |
| | JAW MOVABLE | 20385 | 661426 |
| | | 20322-A | 661425 |
| | JAW MOVABLE FC;QT | 20249-B | 661419 |
| | JAW MOVABLE FC;RT | 18475-A | 661413 |
| | | 19483-M | 661415 |
| | | 20220B | 661417 |
| | JAW MOVABLE FC;RT W/SLAB | 20252-B | 661422 |
| | JAW MOVABLE FC;RT; PARTIAL FIE | 20254-B | 661424 |
| | JAW MOVABLE FC;RT;TD 5″ | 614027 | 661427 |
| | JAW MOVABLE FC;RT;TD 5.5″ | (blank) | 661429 |
| | JAW MOVABLE FC;ST | C10048-01 | 661411 |
| | JAW MOVABLE W/2-LIFTING HOLES (1 END) | (blank) | 661434 |
| | JAW STATIONARY FC;RT | 18476 | 661414 |
| | | 19484-K | 661416 |
| | JAW STATIONARY FC;RT;TD 5″ | 614028 | 661428 |
| | JAW STATIONARY FC;RT;TD 5.5″ | (blank) | 661430 |
| | JAW STATIONARY FC;ST | C10049-01 | 661412 |
| | JAW STATIONARY SC-CE;FIE | 20250-B-MSPC | 661420 |
| | JAW STATIONARY SC-CE;RT | 20221-C | 661418 |
| | JAW STATIONARY SC-CE;RT; W/SLAB | 20253-B | 661423 |
| | JAW STATIONARY SC-CE;RT;W/SLAB | 20251-B | 661421 |
| | JAW STATIONARY W/4 LIFTING HOLES | (blank) | 661435 |
| | JAW STATIONARY W/4 LIFTING HOLES FIE | (blank) | 661436 |
| | JAW WEDGE | (blank) | 661431 |
| | JAW WEDGE MOVABLE | (blank) | 661432 |
| | JAW WEDGE STATIONARY | (blank) | 661433 |
| JAW LIPPMANN 4860 | JAW MOVABLE | D-10291 | 661502 |
| | JAW MOVABLE SMALL POCKET | (blank) | 661506 |
| | JAW MOVABLE 5″TD LARGE POCKET 1″ CURVE | 615008 | 661508 |
| | JAW MOVABLE 5″TD LARGE POCKET 2″ CURVE | 615004 | 661504 |
| | JAW MOVABLE FIE | (blank) | 661510 |
| | JAW STATIONARY | D-10291 | 661501 |
| | JAW STATIONARY 5″TD FIE | (blank) | 661509 |
| | JAW STATIONARY 5″TD LARGE POCKET 1″ CURVE | 615007 | 661507 |
| | JAW STATIONARY 5″TD LARGE POCKET 2″ CURVE | 615003 | 661503 |
| | JAW STATIONARY SMALL POCKET | (blank) | 661505 |
| | JAW WEDGE STATIONARY | (blank) | 661511 |
| JAW LIPPMANN 5062 | CHEEK PLATE LOWER LH 1-3/4″ TH | 20276 | 661604 |
| | CHEEK PLATE LOWER RH 1-3/4″ TH | 20275 | 661603 |
| | CHEEK PLATE UPPER LH 1-3/4″ TH | 20274 | 661602 |
| | CHEEK PLATE UPPER RH 1-3/4″ TH | 20273 | 661601 |
| LORO PARISINI CR1400 | CHEEK PLATE LOWER LH | CMAL-A5-14 | 662506 |
| | CHEEK PLATE LOWER RH | CMAL-A5-14 | 662507 |
| | CHEEK PLATE UPPER LH | CMAL-A5-14 | 662504 |
| | CHEEK PLATE UPPER RH | CMAL-A5-14 | 662505 |
| | JAW MOVABLE LOWER | CMAL-A5-12 | 662503 |
| | JAW MOVABLE UPPER | CMAL-A5-11 | 662502 |
| | JAW STATIONARY UPPER/LOWER | CMAL-A5-10 | 662501 |
| JAW NORDBERG C100 | JAW MOVABLE | (blank) | 664201 |
| | JAW STATIONARY | 4659-0860 | 664202 |
| JAW NORDBERG C105 | JAW MOVABLE | (blank) | 664301 |
| | JAW STATIONARY | 814391377900 | 664302 |
| JAW NORDBERG C110B | JAW MOVABLE | 19888-A-60 | 664401 |
| | | 20118 | 664403 |
| | JAW MOVABLE -2 PC. DESIGN | 20422 | 664407 |
| | JAW STATIONARY | 19889-A | 664402 |
| | | 20119 | 664404 |
| | JAW STATIONARY – 2 PC. DESIGN | 20421 | 664406 |
| | JAW STATIONARY WITH FILLED-IN-ENDS | 20285 | 664405 |
| JAW NORDBERG C120 | JAW MOVABLE 1-pc | MM0586425 | 664501 |
| | JAW STATIONARY 1-pc | MM0585542 | 664502 |
| JAW NORDBERG C125 | CHEEK PLATE LOWER | 5676-2391 | 664603 |
| | CHEEK PLATE UPPER | 5676-2394 | 664604 |
| | JAW MOVABLE 1-pc | 4659-0663-MOD | 664601 |
| | JAW MOVABLE 2- pc | 20126A | 664606 |
| | JAW MOVABLE 2- pc patial FIE | 20127A | 664607 |
| | JAW STATIONARY 1-pc | 4659-0664-MOD | 664602 |
| | | (blank) | 664605 |
| | JAW STATIONARY 2-pc | 20128A | 664608 |
| JAW NORDBERG C140 | JAW MOVABLE | 4659-0644 | 664702 |
| | JAW MOVABLE 1- pc | 20121-A | 664703 |
| | JAW MOVABLE 1- pc 5TD | (blank) | 664708 |
| | JAW MOVABLE 1- pc New lifting Device | 20405 | 664710 |
| | JAW MOVABLE 2- pc | (blank) | 664706 |
| | JAW STATIONARY | 4659-0646 | 664701 |
| | JAW STATIONARY 1-pc | 20122-B | 664704 |
| | JAW STATIONARY 1-pc 5TD | (blank) | 664709 |
| | JAW STATIONARY 1-pc FIE | 20265-A | 664707 |
| | JAW STATIONARY 1-pc New lifting Device | 20406 | 664711 |
| | JAW STATIONARY 2-pc | 20140-B | 664705 |
| JAW NORDBERG C160 | CHEEK PLATE LOWER | (blank) | 664910 |
| | CHEEK PLATE UPPER | (blank) | 664909 |
| | JAW MOVABLE 1-pc Q-Tooth | (blank) | 664905 |
| | JAW MOVABLE 1-pc RND Tooth | (blank) | 664904 |
| | JAW MOVABLE 1-pc SQ Tooth | (blank) | 664903 |
| | JAW MOVABLE 2- pc | 19901-60 | 664901 |
| | JAW STATIONARY 1-pc Q-Tooth | (blank) | 664908 |
| | JAW STATIONARY 1-pc RND Tooth | (blank) | 664907 |
| | JAW STATIONARY 1-pc SQ Tooth | (blank) | 664906 |
| | JAW STATIONARY 2-pc | 19902-60 | 664902 |
| JAW NORDBERG VB1109 | JAW | 19081 | 668001 |
| JAW NORDBERG VB1311 | CHEEK PLATE LOWER LH SQ HOLE | FV-18894-EL | 668108 |
| | CHEEK PLATE LOWER LH TPR HOLE | FV-18894-DL | 668106 |
| | CHEEK PLATE LOWER RH SQ HOLE | FV-18894-ER | 668109 |
| | CHEEK PLATE LOWER RH TPR HOLE | FV-18894-DR | 668107 |
| | CHEEK PLATE UPPER LH SQ HOLE | FV-18893-EL | 668104 |
| | CHEEK PLATE UPPER LH TPR HOLE | FV-18893-DL | 668103 |
| | CHEEK PLATE UPPER REVERSIBLE | FV-18893-B | 668102 |
| | CHEEK PLATE UPPER RH SQ HOLE | FV-18893-ER | 668105 |
| | JAW MOVABLE | 20149 | 668111 |
| | JAW REVERSIBLE | 20315 | 668112 |
| | | 18759-B | 668101 |
| | JAW STATIONARY | 20148 | 668110 |
| JAW PIONEER 2854 | JAW MOVABLE | L-03800 | 671602 |
| | JAW MOVABLE W/FIE | L-03869 | 671604 |
| | JAW STATIONARY | L-03799 | 671601 |
| | JAW STATIONARY W/FIE | 20306-72 | 671603 |
| JAW PIONEER 3042 | JAW MOVABLE | C-00599 | 671811 |
| | | C-00952 | 671802 |
| | | C-00953-A | 671801 |
| | | C-01256 | 671809 |
| | | L-03820A | 671805 |
| | JAW MOVABLE W/FILLED IN ENDS | 190053 | 671806 |
| | JAW STATIONARY | 10356-A | 671803 |
| | | | 671804 |
| | | C-00604 | 671812 |
| | | C-01255 | 671810 |
| | | L-03821 | 671807 |
| | JAW STATIONARY W/FILLED IN ENDS | L-03954 | 671808 |
| JAW PIONEER 3546 | JAW MOVABLE | L-03818 | 672401 |
| | | L-03818 ALT | 672402 |
| | | L-03868 | 672403 |
| | JAW STATIONARY | L-03819 | 672404 |
| | | L-03819-ALT | 672405 |
| JAW PIONEER 4248 | JAW MOVABLE | (blank) | 672501 |
| | JAW MOVABLE W/SLAB BREAKER TEETH | (blank) | 672503 |
| | JAW STATIONARY | (blank) | 672502 |
| | JAW STATIONARY W/SLAB BREAKER TEETH | (blank) | 672504 |
| JAW SANDVIK 1208 | JAW MOVABLE | 17-402-431-001 | 675301 |
| | JAW STATIONARY | 17-402-431-002 | 675302 |
| JAW SANDVIK JM1211 | JAW MOVABLE | 20272 | 675402 |
| | JAW STATIONARY | 20271 | 675401 |
| JAW TELSMITH 3042 | JAW MOVABLE | 14355 | 678302 |
| | | 14355-A | 678303 |
| | | 3042-B65 B-273-881 | 678307 |
| | JAW STATIONARY | 14356-H | 678304 |
| | | 14356-J | 678305 |
| | | B-273-888 | 678306 |
| | JAW WEDGE | 3042-B67 | 678301 |
| JAW TELSMITH 3646 | JAW MOVABLE PLATE | B1-273-968 | 678701 |
| | JAW STATIONARY | D1-273-968 | 678702 |
| JAW TELSMITH 3646/48 | JAW MOVABLE | 19045 | 678801 |
| | JAW STATIONARY | 19046-A | 678802 |
| | | (blank) | 678803 |
| JAW TELSMITH 42/4448 | JAW MOVABLE 103.5″LG 10 HOLES | JB1-273-918 | 678905 |
| | JAW MOVABLE 103.5″LG 12 HOLES | 18433-B | 678902 |
| | JAW MOVABLE 103.5″LG 8 HOLES | JB1-273-918 | 678906 |
| | JAW MOVABLE LONG FIE | (blank) | 678904 |
| | JAW MOVABLE WITH FILLED-IN-ENDS | (blank) | 678908 |
| | JAW STATIONARY 90.75″LG 12 HOLES | 18192-A | 678901 |
| | JAW STATIONARY 90.75″LG 8 HOLES | 18192 | 678907 |
| | JAW STATIONARY LONG FIE | (blank) | 678903 |
| | JAW STATIONARY WITH FILLED-IN-ENDS | (blank) | 678909 |
| JAW TELSMITH 4448 | JAW MOVABLE 112″LG RND 10 HOLES | (blank) | 679011 |
| | JAW MOVABLE 112″LG SQ 0 HOLES | (blank) | 679008 |
| | JAW MOVABLE 112″LG SQ10 HOLES | (blank) | 679007 |
| | JAW MOVABLE 112″LG FIE 0 HOLES | (blank) | 679003 |
| | JAW MOVABLE 112″LG FIE 10 HOLES | (blank) | 679002 |
| | JAW MOVABLE 112″LG RND 0 HOLES | (blank) | 679012 |
| | JAW STATIONARY 100″LG RND 16 HOLES | (blank) | 679009 |
| | JAW STATIONARY 100″LG SQ4 HOLES | (blank) | 679006 |
| | JAW STATIONARY 100″LG FIE 16 HOLES | (blank) | 679001 |
| | JAW STATIONARY 100″LG FIE 4 HOLES | (blank) | 679004 |
| | JAW STATIONARY 100″LG RND 4 HOLES | (blank) | 679010 |
| | JAW STATIONARY 100″LG SQ16 HOLES | (blank) | 679005 |
| JAW TELSMITH 5060 | JAW MOVABLE FIE 8 HOLES | 20333 | 679101 |
| | JAW MOVABLE RND 8-HOLES | 20333 MOD | 679105 |
| | JAW MOVABLE RND NO HOLES | 20333 MOD | 679103 |
| | JAW MOVABLE SQ 8-HOLES | (blank) | 679109 |
| | JAW MOVABLE SQ NO HOLES | (blank) | 679107 |
| | JAW STATIONARY FIE 16 HOLES | 20334 | 679102 |
| | JAW STATIONARY RND 16-HOLES | 20334 MOD | 679106 |
| | JAW STATIONARY RND 4-HOLES | 20334 MOD | 679104 |
| | JAW STATIONARY SQ 4-HOLES | (blank) | 679108 |
| | JAW STATIONARY SQ16-HOLES | (blank) | 679110 |
| JAW UNIVERSAL 2436 | JAW MOVABLE, SAWTOOTH DESIGN | (blank) | 682701 |
| | JAW STATIONARY, SAWTOOTH DESIGN | (blank) | 682702 |
| JAW UNIVERSAL 3042 | JAW MOVABLE | 13473-B | 682801 |
| | | B524-14 | 682804 |
| | JAW STATIONARY | 13474-C | 682802 |
| | | B524-13 | 682803 |
| JAW UNIVERSAL 3648 | JAW STATIONARY | 18978 | 682901 |
| OMNICONE NORD 1144 SH | BOWL LINER COARSE | 4829-4614 | 624001 |
| | MANTLE | 5013-2107 | 624002 |
| OMNICONE NORD 1352 SH | BOWL LINER COARSE | 4829-4813 | 624106 |
| | BOWL LINER FINE | 4829-4806 | 624104 |
| | BOWL LINER MEDIUM | 4829-4807 | 624101 |
| | MANTLE | 5013-3981 | 624102 |
| | MANTLE W/ HOLES | FV-19853-A | 624103 |
| | TORCH RING | 6391-5607 | 624105 |
| OMNI NORD 1352 STD | BOWL LINER COARSE | 4829-4826 | 624202 |
| | | 4829-4826-MOD | 624204 |
| | BOWL LINER FINE | 4829-4820/4821 | 624205 |
| | BOWL LINER MEDIUM | 4829-4823 | 624203 |
| | BOWL LINER MEDIUM W/IFP | 4829-4823 | 624206 |
| | MANTLE | 5013-3991 | 624201 |
| | MANTLE RIBBED TOP | GNB1352M18 | 624207 |
| OMNI NORD 1560 SH | BOWL LINER COARSE | 4831-5108, 5119 | 624302 |
| | | 4831-5111 | 624314 |
| | | 4831-5115 | 624303 |
| | | FV-20172 | 624312 |
| | BOWL LINER EXTRA FINE | 4831-5154-MOD, 5159-MOD | 624308 |
| | BOWL LINER FINE | 4831-5147 | 624306 |
| | BOWL LINER MEDIUM | 4830-5109 | 624317 |
| | | 4831-5112 | 624311 |
| | | FV-19988 | 624310 |
| | MANTLE | 5013-6354 | 624301 |
| | | 5013-6373-MOD, 6375-MOD | 624309 |
| | | FV-20173 | 624313 |
| | MANTLE W/HOLES | 5013-6368-MOD, -6380-M0D | 624307 |
| | MANTLE W/O POURING HOLE | 5013-6356, 6391 | 624304 |
| | MANTLE W/OPOURING HOLES | 5013-6368, -6380 | 624315 |
| | | FV-20173 WO HOLES | 624318 |
| | MANTLE W/POURING HOLE | 18767-B | 624305 |
| | TORCH RING | 6391-5719 | 624316 |
| OMNI NORD 1560 STD | BOWL LINER COARSE | 4831-5142 | 624401 |
| | | 4831-5152 | 624408 |
| | | FV-20033 | 624405 |
| | BOWL LINER FINE | 4831-5151 | 624406 |
| | BOWL LINER MEDIUM | 4831-5144, -5160 | 624403 |
| | BOWL LINER MEDIUM IF POCKETS | (blank) | 624409 |
| | MANTLE | 5013-6351 | 624402 |
| | | 5013-6363 | 624404 |
| | | 5013-6367 | 624407 |