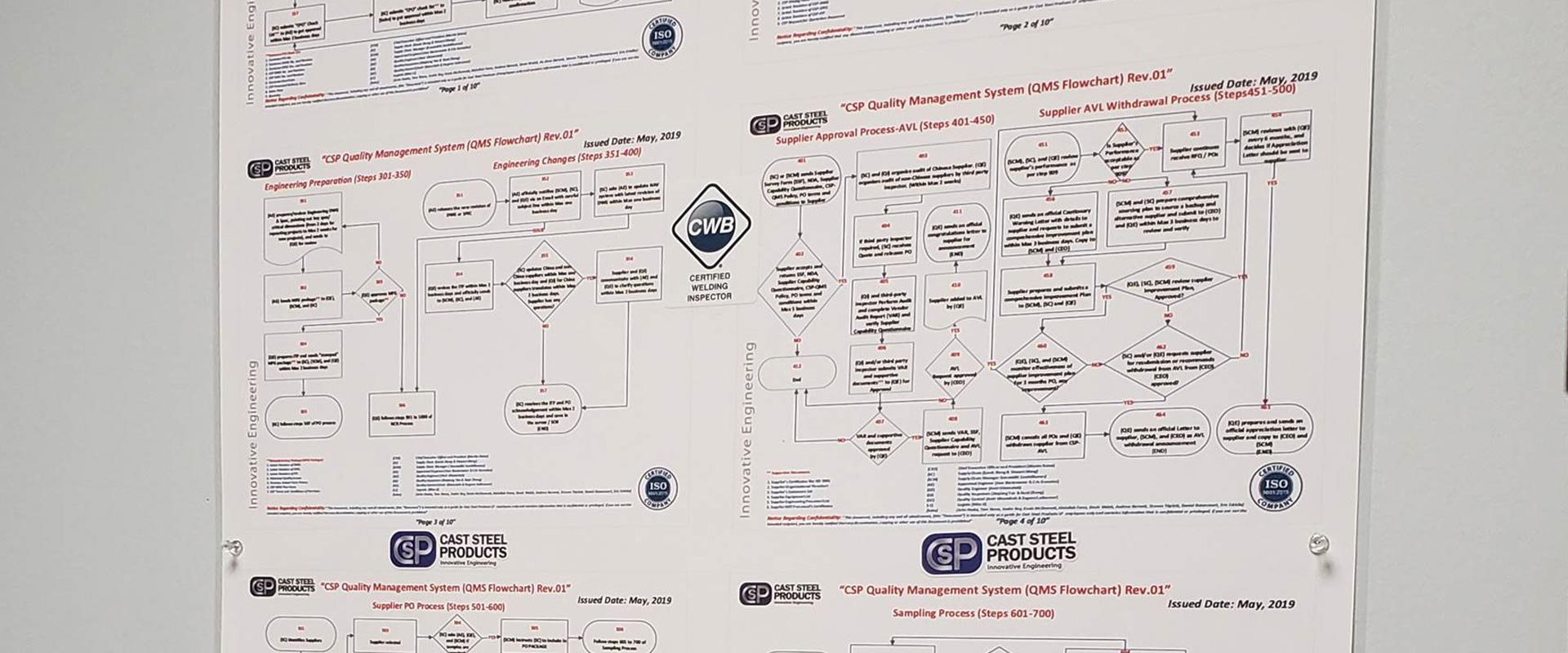 CSP's Quality Management System is an industry leading process that ensures we deliver every product on-time and on-spec. CSP's QMS process has been ISO 9001:2015 certified and includes detailed procedures throughout each step in the order, manufacturing and inspection process. No product leaves CSP without being checked a minimum of three times. At CSP, we recognize that your product arriving on-time and within specification is critical to the continual smooth operation of your plant. For over 30 years, CSP has ensured that each of our customers are receiving exactly what they need when they need it.
The key aspect to the QMS process if the quality flow chart, which highlights the entire organizations commitment to quality. Included in the flow chart are the following key facts about our QMS Process:
CSP only works with suppliers that have been added to our Approved Vendor list, a process which includes a full audit of the supplier, Non-Disclosure agreements and a full identification of equipment, personnel, capability and approach to quality of each supplier.
Every product and sub-component product has a detailed engineering drawing done by our metallurgical engineer or our Master Mechanical Engineer. Along with each drawing a complete specification and quality control plan is created. The quality control plan is then translated into an Internal Test Plan (ITP) which indicates the more then 10 quality inspections done on each product. CSP will check each product a minimum of 3 times and will prepare a complete MTR report including Chemical, Mechanical, Dimensional and visual testing. Our metallurgical engineer is an expert in foundry process and develops the control plan for all poured goods. Our Mechanical engineer prepares the control plan for all assemblies and manufactured goods.
During production, Suppliers and internal facilities are visited or reviewed on a weekly basis via our SVR (Supplier Visit report) to ensure that all goods are in process in accordance with our control plan and timeline expectations. The SVR's are sent in to the QA manager for review.
The QA Manager, will review every project to ensure that all steps of the flow chart have been completed and will issue NCR's for any deviations. A CAR (Corrective Action Report) is required on each NCR before it can be closed.
All NCR's and CAR's are reviewed by the Senior Management Team which includes the VP Supply Chain, VP Business Development and Finance and the CEO, weekly.
The QMS flow chart is an end to end process which includes the steps when we first receive an order to final delivery.